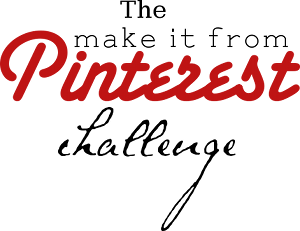 It's next week my friends! Starting on Monday and going through Friday, the Pinterest challenge will be attempted once more!
After last month's challenge was completed there were several people who left comments lamenting on the fact that they had missed it by several days, or the entire week through no fault of their own! In fact, I am perfectly willing to lay the blame on myself, because I simply jumped into it and didn't give anyone any time to think.
Now you still have time to think about it, plan ahead, and get excited! If you don't know what the Pinterest Challenge is be sure to check out the
introductory post
.
~~~
One other thing before you go. I started following this adorable blog,
Wild Olive
, a few weeks ago. I have to say that I'm hooked on this girl's designs. They are cute, fun, whimsical, and can be on anything from Valentines Day cards to embroidery patterns. What's not to love about cute little smiley faces that adorify anything? (Yes, it's possible I made up that word, adorify.)
Speaking of embroidery patterns, she's starting up an
stitch swap
! Sign up, and you will have a month to complete and send a little project that should fit into a 4" hoop. I'm really excited about this idea, and am seriously considering participation! One thing to remember though is that this swap is including all of our International neighbors as well (Yay!), so be prepared to possibly pay a little extra shipping.
So, Pinterest Challenge and Stitch Swap. Are you as excited as I am?