At least, it's a treasure in my humble opinion. Especially since Louisa May Alcott is one of my favorite authors. Yes, today at the Goodwill I found two books, actually, one of them being Eight Cousins, in the form of
a delightful 1955 edition
, complete with adorable, cheerful, and bright illustrations.
I'm in love.
The other book I found is a hard-bound copy of Strawberry Girl, by Lois Lenski. Honestly girls, if you haven't read any of Lois Lenski's books, then (if I remember right!), you're missing out!
They are sweet, simple tales with fascinating pictures
. The Lenski books are a little harder to find, so I grabbed it up like a chunk of silver.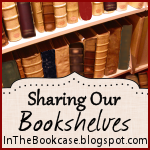 I would also like to direct you over to
In The Bookcase
for a fun meme called
Sharing our Bookshelves
! You have the whole month to share your book related posts, and then we get to do it again next month!
Have you found any
thrift store treasures
lately? More particularly, any books? Tell me about them!