I wanted to take a few moments and direct you to a blog that really impresses me, in many ways. It is called
Ali's African Adventures
, and although she is no longer in Africa, her writings remain just as informative and touching as ever.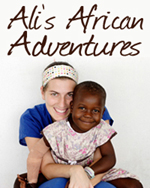 Ali worked on a Mercy Ship in West Africa, and her blog was devoted to that, sharing the experiences, and stories, of the people she met and helped there. Now she is traveling around the world, and as she shares about that adventure, it is just as touching.
Every time I visit her blog, I can not come away without desperately wanting to help, or wishing that I could somehow be there too, and be as emotionally charged with the welfare of the lost, the sick, and the hungry as Ali is.
It impresses me, and makes me look at my own life, and how little I feel I am doing. Even if I never set foot off of US soil again, Ali's blog inspires me to see what I can do around me, and I hope it does the same for you.